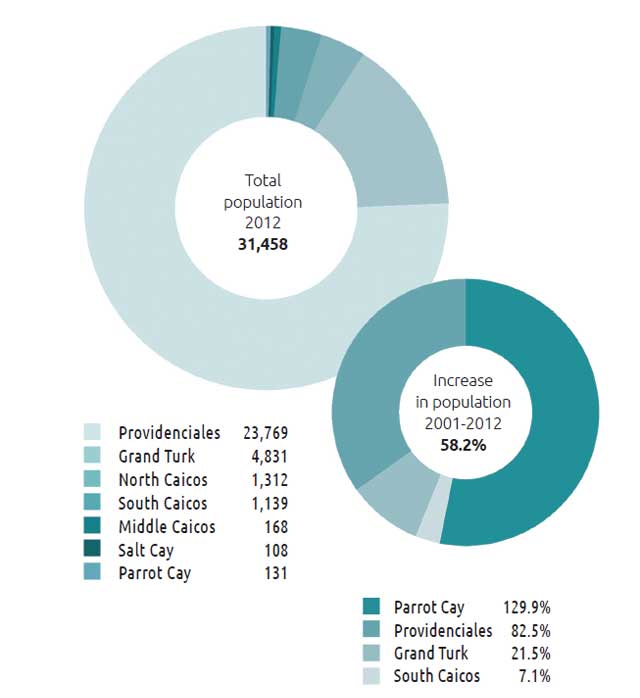 Dynamic growth continues to transform the demographic profile of the Turks and Caicos Islands, according to the most recent census of the nation's population.
Newcomers drove the expansion, which saw the islands' population expand by a record 58 percent between 2001 and January 2012. With more foreigners without a family connection to the islands taking up residence in the Turks and Caicos Islands, residents without voting status now comprise a majority of the adult population for the first time in the nation's history.
The influx of expatriates pushed the percentage of "Non-Turks and Caicos Islanders" age 18 and older to 57.5 percent. Expats now comprise the majority of the adult populations on Providenciales and North Caicos, which had the 131 residents of Parrot Cay included in its count.
Booming economic development on Providenciales remained the primary engine of this tremendous growth for the third consecutive census. As resort construction along Grace Bay accelerated, the population of Providenciales exploded from 977 in 1980 to 13,021 in 2001. It expanded by 82.5 percent in the 2012 count, reaching 23,769 residents. Today Providenciales is home to 75 percent of the nation's population, and roughly 62 percent of them took up residence without having a family history in the islands.
Though the tabular data on the demographic questions from the 2012 census have yet to be released, the simple headcount confirms the big picture that residents have long understood. Providenciales' tourism boom continues to attract not only foreign nationals, but locals drawn to the island's labour market.
Did you know?
Grand Turk is the most densely populated islands at 700 people per square mile.
Middle Caicos is the least densely populated islands at 4 people per square mile.
Providenciales is the fastest growing island.
About 75% of the population lives on Providenciales.
Source: 2012 Turks and Caicos census