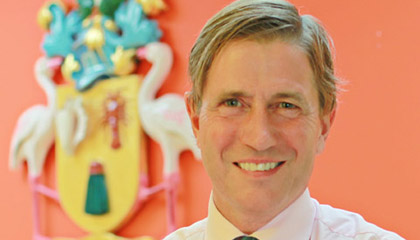 After two years as governor of Turks and Caicos, career civil servant Ric Todd returned to the United Kingdom in late September for a short break before reporting for his next assignment – High Commissioner to Cyprus – in early 2014.
His replacement, Peter Beckingham, will be sworn-in Wednesday, Oct. 9.
The Todd- era (2011-13) oversaw the outright reversal of the country's economic downturn during the crisis years of 2009-10, while managing the simultaneous transitions to a modern code of laws and the return of self-governance. But as Todd leaves office, he reviews his performance based on the three objectives set for him by the foreign office before his arrival: 1. Meet the milestones and hold the elections; 2. Develop the economy; and 3. Establish an honest, transparent government.
"We managed to do all those things, and now as I leave after two years, I can say I really feel the TCI has made enormous progress meeting the milestones," Todd said. "As I said at the start, (it's) not something which the governor can do on his or her own. It requires an effort by people all across the country, led by the TCI public service. And that was done."
The nation's economy grew in each year of Todd's tenure – 4.6 percent in 2011, almost 5 percent in 2012 – and it's set to grow again once the 2013 figures are compiled. "I think there's every reason to be optimistic about TCI's future," Todd said.
The outgoing governor believes Turks and Caicos has become a more transparent place to do business, and that there is honesty and integrity in public life. A government is honest, Todd said, when it routinely tells people the truth and avoids making promises it can't keep. He believes government must explain its constraints, establish the relevant choices, and encourage honest debate about them.
"I think the reaction which I've had from businesses overall and new developers in particular – I will pause here to say that people are fixated with new investment ...but equally important to TCI is continuing investment by existing companies – is they have always appreciated the openness of the investment policy which we have put in place. The openness of the procedures."
Todd describes the process as beginning with open and honest discussions, followed by a Memorandum of Understanding which sets out the broad parameters, before entering the planning process and ultimately a development agreement. "People feel comfortable because they can see where it is going," said Todd. "The MOU is important, because in the past there wasn't this interim stage and companies had to go straight into the planning process without a real sense of what sort of field they were playing on.
"My experience is that what investors want isn't concessions or big tax breaks. What they want is certainty about what will happen, and above all, they want to be able to get through the processes we have (planning, development agreement process, business licensing, labor issues) ... in a predictable, efficient, stable way. The idea that in order to attract investors you have to give tax breaks is misleading."
The role of the governor changed dramatically after the elections in November, and while his successor won't have the broad authority of Todd's original portfolio, he will continue the work of building and tending partnerships between the UK and the TCI.
"There was a sense, certainly in London, two years ago of concern about Turks and Caicos, the position it had gotten itself into and how collectively we could turn it around, how we could make it back to being what it wants to be," Todd said. I think now the sense in London is that TCI has changed enormously for the better and things are going pretty well. TCI is on a good path."