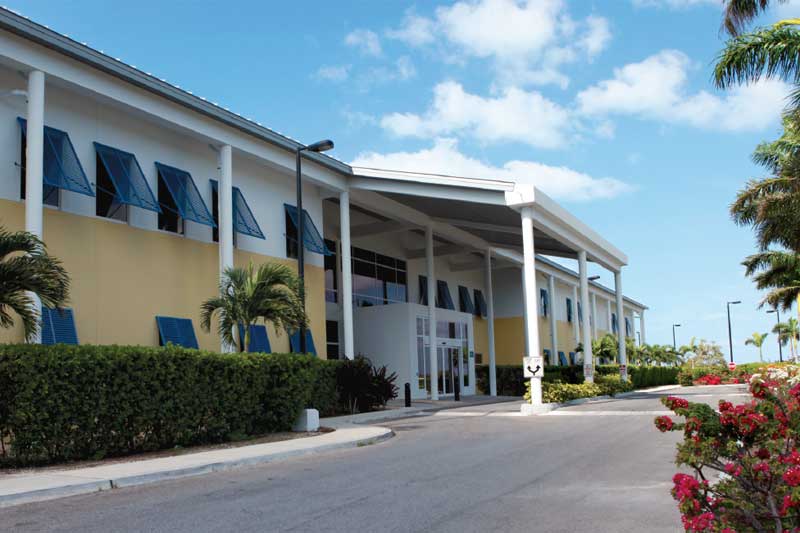 The Cheshire Hall Medical Centre on the island of Providenciales offers top quality care to residents and visitors. Its sister facility, Cockburn Town Medical Centre is on Grand Turk.
After making enormous strides in the improvement of its national health care system over the past decade, the Turks and Caicos Islands is now turning its attention to an agenda that targets enhanced effectiveness, reduced costs and expanded access to quality care across the nation.
The most visible evidence of the new era is the Turks and Caicos Islands Hospital, with its two state-of-the-art facilities: the 20-bed Cheshire Hall Medical Centre on Providenciales, and the 10-bed Cockburn Town Medical Centre on Grand Turk. Developed through a public-private partnership with InterHealth Canada (TCI) Ltd as part of the government's ambitious 2006 Health Care Renewal Strategy, the modern hospitals (built in 2010) vastly improve the nation's ability to deliver multiple levels of care.
Both centres are acute-care facilities with emergency departments, maternity services, operating theaters, recovery rooms, dialysis units and family practice clinics. Core staff cover the major fields of modern medicine, but regular visiting consultants expand those capabilities. The system has received the highest available accreditation – Diamond Accreditation by Accreditation Canada International – making it "one of the very few hospitals to have reached that status within two years of opening," said Dr. Robyn Barnes, Chief of Medical Services for Turks and Caicos Islands Hospital.
Less visible are the associated advancements in environmental and public health, and the creation of the country's first truly inclusive National Health Insurance Plan. Government-funded care had previously been offered only to those with Turks and Caicos Islander status, but the new system now covers nearly 30,000 residents.
International and very experienced medical community including: Private primary care practitioners, as well as specialty care providers such as chiropractors, osteopaths, physiotherapists, dermatologists, and more.
With that modern infrastructure in place, the Ministry of Health has embarked toward a series of new goals. Job One is creating a health financing structure that will make the system more affordable and fiscally sustainable, but the current agenda also includes a range of smaller programs that take advantage of the system's new capabilities. They generally fall under two headings: Improving residents' health and quality of life, and driving down costs.
The new TCI Hospital has significantly reduced the annual cost of overseas treatment. To meet those goals, the country will likely need to increase insurance revenues while decreasing costs. Today, employee and employer contributions add up to $19 million of the program's annual $60 million expenditures, with the government covering the balance. Those demands limit resources to other health initiatives, yet the comprehensive approach is also earning some major system-wide savings. Ministry of Health clinics in Blue Hills on Providenciales and the less-populous islands handle primary care, but refer patients to the TCI Hospital's two flagship medical centers for more advanced procedures. And plans for telemedicine links between hospital staff and primary care providers on remote islands promise to improve care while driving down costs.
There are a number of well stocked pharmacies in the islands.
The full results of the past decade's modernization will emerge only through years of data, but some improvements are already quantifiable. Thanks in part to a comprehensive immunization program, the country suffered no infant or maternal deaths in the most recent annual measure. Malaria, which affected 9.57 people per 1,000 residents in 2000, dropped to zero reported cases in 2005.
Still, significant challenges remain. The incidence of HIV/AIDS is on the rise, and chronic threats such as diabetes, hypertension, cardiovascular disease and obesity still pose major health problems.
But with the proper infrastructure in place, health care in the islands is moving from an intractable problem to a national asset. Deficiencies in onisland hospital care once represented an enormous impediment to attracting visitors and residents. That's now a competitive advantage for TCI when prospective visitors and newcomers compare island destinations.
Did you know?
There are two full service facilities: Cheshire Hall Medical Centre and Cockburn Town Medical Centre
Core staff includes: Obstetrics, Gynecology, Family Practice, Emergency, Orthopedics, Urology, Pediatrics, General Surgery and Internal Medicine. Regular visiting consultants: Oncology, Nephrology, ENT, Ophthalmology, Plastic/Reconstructive surgery, Neurology, more Orthopedics
Image: Eden Media