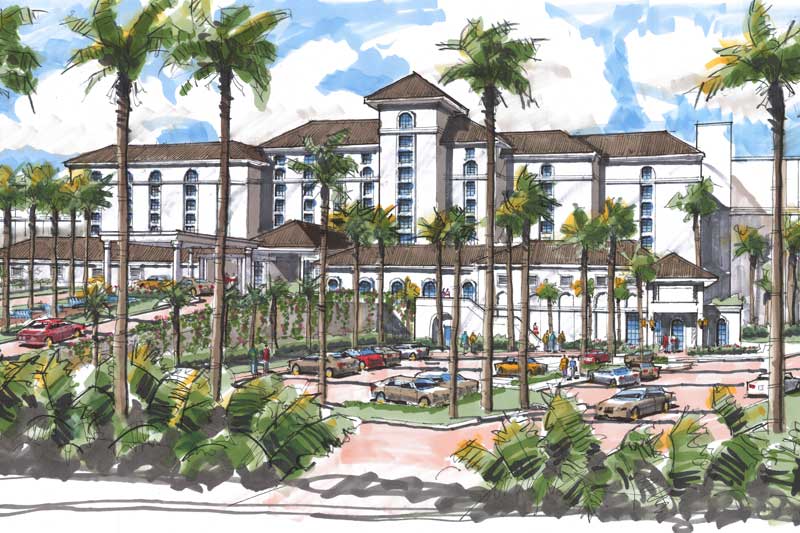 This rendering of the planned Marriott project on Providenciales is just one of several new development projects announced in the past twelve months.
In the months leading up to the global recession and financial crisis of 2008, development in the Turks and Caicos Islands boomed with international confidence. In the years that followed, islanders would contend not only with the doldrums of the worldwide economy, but also suffer through a top-to-bottom overhaul of their governmental and financial systems.
But as the global economic recovery continues, the country is re-emerging as a development opportunity – only this time, it's with a more reliable and professional foundation for investment.
"I am extremely optimistic at the potential, not only in the next 12 months, but throughout the current term of the government and beyond," said Washington Misick, Turks and Caicos' minister of finance.
It's not one thing that gives Misick confidence, but a variety of them.
High-end international tourism – the foundation of the local economy – remains the most reliable sector of the tourism industry. The local economy grew at a brisk 4.3 percent in 2011. The quality of the development and investor groups doing business in the islands is on the rise. Once-promising resort projects that fell into limbo in 2008-09 are on their way back, thanks to refinancing by groups with the resources to bring them to fruition, Misick said. And the first in what appears to be a new wave of resort developments are just beginning to come ashore.
Consider the news from last fall: Desarrollos Hotelco Group signed three Memoranda of Understanding covering $500 million in proposed resort development financing – enough to construct three new resorts, with almost 900 five-star rooms on Grace Bay.
"We were attracted to TCI because it is a high end tourism destination with great potential, friendly and welcoming people and an excellent investment climate," said Pedro Vera of the Venezuela-based Hotelco Group. "We look forward to investing in TCI and being a participant in bringing luxury resort brands to these islands."
That alone could be enough to jump-start a new era of growth on Providenciales. But some observers of the island economy, including resort developer Mark Durliat, see an additional opportunity. They believe the great sorting of the past five years has cleared the way for a new style of resort project.
We were attracted to TCI because it is a high end tourism destination with great potential, friendly and welcoming people and an excellent investment climate.
"The money coming in is going to be more institutional," Durliat said in late 2012. "I see that happening without question. It will definitely, as we grow, become more homogenized. The Marriotts will definitely arrive. That is coming, inevitably."
And as predicted, in the spring of 2013, JW Marriott Hotels and Resorts was announced as the brand behind the previously revealed Desarrollos Hotelco development.
This next wave appears to be arriving despite a tight traditional credit market, which is driving financiers toward equity investors, said Simon Taylor, manager of the Turks and Caicos office of BCQS, a construction and development consultancy. Investors, Taylor said, "perceive that (resort development in Turks and Caicos is) a good use of their money, that there's going to be another upturn."
Even coming out of the worst of the recession years, with banks sitting on portfolios of distressed resort properties and investors facing anxieties about the old Turks and Caicos government, the bright spot in an otherwise flat development picture has been high-end properties and private villas, Taylor said, citing projects like Durliat's The Residences by Grace Bay Resorts.
Other sectors – particularly Providenciales' condo market – have struggled under the weight of pre-crash inventory surpluses. But Joe Zahm, a Providenciales Broker/Realtor TC Sotheby's International Realty, says that available inventories have been shrinking and that new condo projects will be announced on Grace Bay within the year. "They may be financially structured a bit differently, but this will soon get worked out."
Of course, while the macro picture trends towards large "anchor" resort projects and luxury development on prime Grace Bay, real estate savvy developers have also managed to turn profits on smart "small" projects. The rising success of Providenciales' resort economy has created an under-served professional class that needs affordable housing, and Canadian expatriate Kelly Sullivan has threaded the needle between quality and affordability with both his Venetian Ridge Villas and – more recently – his One On Marlin condo development.
"It all comes down to having something that represents good value in the marketplace," Sullivan said.
Given its place in modern Turks and Caicos, it's no surprise that much of the new activity centers on Providenciales. But the government is in active discussions with developers around three different projects on Grand Turk, Sailrock has announced the Great House Hotel on South Caicos, and the revival of plans derailed during the financial crisis has set in motion a large investment on West Caicos.
"I am extremely bullish," Finance Minister Misick said. "I am absolutely busy trying to move projects through the pipeline at the moment."
Projects recently announced:
The Shore Club, Providenciales
Third Turtle project, Providenciales
The Residences, Providenciales
Great House, Sailrock, South Caicos
Hotel and Marina, Grand Turk
Molasses Reef, West Caicos
JW Marriott, Providenciales